We'd unexpectedly found ourselves alone. The Teen had gone away to a family event without us, and Bear had a couple of clients planned for the day, but both of them had rescheduled or cancelled. I'd planned a day full of work, but when his plans went awry mine kinda did too.
We were left twiddling our thumbs, staring at each other from opposite ends of a dining room table. There was something about him today. I couldn't quite put my finger on what it was, but it was certainly distracting. I was distracted. Maybe there was something about me? Either way, I couldn't help but think that he looked like the hottest thing I'd ever seen. Hot as fuck. Hotter than that, in fact. Do you ever have those days when you just look at your significant other and think: yes, please, give me ALL of that?
Today was that day for me.
He was HOT. AS. FUCK.
He smiled at me as we sat across from each other, chit-chatting about this n' that. With the brightness of the beautifully sunny day and the large open window behind him, it almost looked as if he had a halo glowing around his body. His skin was more tanned than it usually looked, and his big, brown eyes were looking at me with a smile that soon crept to his mouth. We'd spent a couple of days in the sun and it had done us both the world of good. Socialising, being happy, enjoying life … everyone said that we were "made for each other". It made me very happy to hear it.
He looked good enough to eat, though. That's the point I'm trying to make. I couldn't think of anything other than him, so I closed down my laptop. I couldn't focus on the words in front of me, anyway. It was like a switch had been flicked inside me. I wanted him. Right there. Right then.
So, I went and got him.
I slowly uncrossed my legs and slid them to the side of the chair, smiling at him as I did so. I rearranged my white Hooters vest top in front of him, deliberately, making sure that he could see my legs in their yoga pants sprawled out in front of me.
Standing up, slowly again, I sashayed over to him with almost-exaggerated movements, swinging my hips from side to side in a way that he always knows means business. Swinging my left leg over him, then straddling him, I grabbed his face with both of my hands and just kissed him, long and hard. It felt like we hadn't kissed like that in an eternity. Maybe it actually had been that long?
Our kisses rising in intensity, I lifted his arms above his head so that I could take off his t-shirt. Then we did the same for me, revealing just a plain white bra. So innocent. So simple. I've started to really appreciate the power of white underwear, especially with Bear. He seems to really love it.
I stood up so that he could slide my yoga pants down, yanking my frilly Victorias Secret thong down with them (because I rarely wear matching underwear), and then we did the same with him, torturously fumbling with each button on his jeans. There's something so very erotic about the un-popping of those buttons, something else I've started to appreciate.
Pop. Mounting tension.
Pop. C'mon now, let me get at it.
Pop. Ugh. One more!
Pop … YES!
It wasn't until we got the jeans right down to his ankles, underwear along with them, that we realised he still had his boots on, but it was too late to worry about taking them off by then. They'd just need to stay where they were … I needed him.
I lowered myself down onto him, not letting him enter me but instead teasing him with my wetness. I slid myself up and down his length without letting him get close to where he really wanted. I could see it was driving him nuts. That's what I love the most about 'us': I love that I can do that to him. I can actually, physically see the mounting frustration on his face. I can see that he wants to let rip, teeth bared and jaw tense, even now, almost 8 months in and living together. In between periods of 'real-life' we still have those beautiful, shining days where our passion erupts right into the middle of the kitchen/dining room.
He spun me around, positioning my legs so that they were hung over the top of his, my back resting against his chest. He's so strong sometimes, he seems to throw me around like I'm weightless. I want to be thrown around. I want him to position me exactly where he wants me, just like he did today; one arm across my chest to keep me still and the other trailed down across my stomach, reaching down to the wetness in between in my legs. He found what he was looking for, signified with my gasp, and he started to work tiny little circles right above my clit. He knows I love that. It's one of the little things I showed him one day. We've started to get really playful when we do actually have sex.
Playfully and painfully pinching my nipples with the arm across my chest, Bear continued working on my clit until my orgasm hit – and it didn't take long. Stuck in that position, without any way of wriggling free, I was all of a sudden very aware that the curtains were open, and the windows were open. We were sat right in front of one of the windows, half-positioned on the chair, but now with my legs spread wide and one of them up on the dining room table. I could see people walking past. Could they see me? Hear us?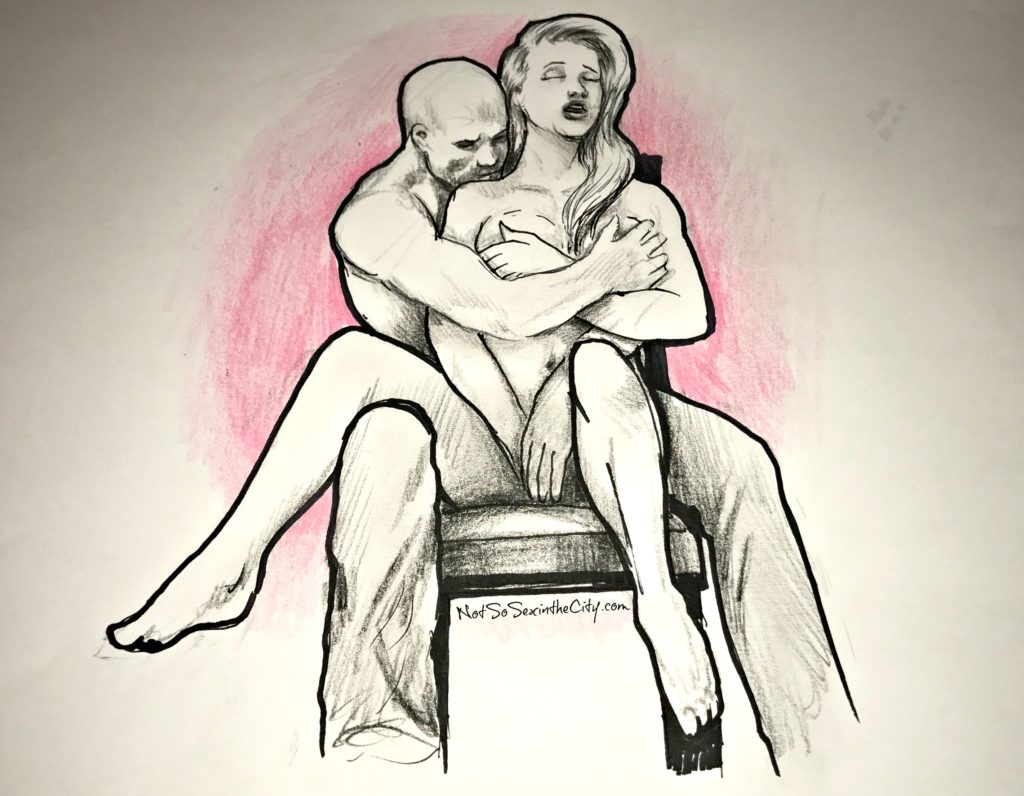 I wanted to grab Bear and run into the bedroom, but even if I'd wanted to I don't think I could have squirmed my way free. Trying to keep quiet, along with trying not to be obvious in front of the window … it was quite an intoxicating mix. I never thought I was much of a voyeur but there was something about that particular moment that definitely worked for me. I came hard. So hard, in fact, that I gushed on Bear's hand and onto the carpet below us.
All hell broke loose then. Trying to keep quiet became an impossible task and I found myself being lifted and carried from the dining room table to the couch in the front room. Throwing me down over the arm of the chair, he yanked on my ankles to pull me closer to him.
"Arch your back, baby. Do it now. Good girl."
I love it when he calls me his good girl. For him, I am. I always will be.
He pounded into me from behind, grabbing fistfuls of my hair with one hand and forcing down on the small of my back with the other. It took him a little longer to come than it did me, and I gave him the pleasure of another of my orgasms in the meantime. He loves it when I play with myself as he fucks me, which is lucky for me as I quite enjoy doing it. Plus it often works to get him there a little quicker. As does reaching down and playfully toying with my ass too, something I learned today. When he did come he pulled out, covering my fingers, ass, and pussy, and he made the most joyous noise. I might try that little anal-play trick again …
We did actually do some work for a while, but you'll be happy to know that about three hours later, he received the most marvellous tit-wank. It's never been something I've been that much of a fan of if I'm honest, but today, well, it was magnificent. His cock looks like it belongs in between my breasts. That pink head against the milky-white of my flesh … mmmhmmm. I'll take some of that, please and thank you!
But yeah, today. What a day! Sunday Funday!
YOU MIGHT ALSO ENJOY THESE: