So, I'm gonna be honest and say that I'm not even sure what day I'm on when it comes to the #30DayOrgasmFun blog adventure I was going to do [See: Sex. (And Pubic Hair)], but I do know that I need to talk about today. Yep, I definitely need to talk about today. Ask me what I did today. Go on, ask me. I'm gonna tell you anyway …
Also: I predict a #NSFW post coming up.
Bear's Son had gone to a family event without us. Bear was meant to have had clients, and I'd planned a busy day of burying my head in my laptop and catching up on all the work I've been desperately trying to avoid for about a week. His client didn't turn up though. Well, he tried to, but he would have been about 45 minutes late. On a Sunday? Na uh. Bear was NOT happy.
Appointment nicely cancelled, Bear and I were left twiddling our thumbs, staring at each other from either end of the long dining room table. I'd tried to work, but there was something about him today. Or maybe there was something about me? Either way, he looked hot as fuck. Do you ever have those days where your 'other half' just looks a hundred times hotter than he did on any other day? Well, today was that day. Bear was hot. as. fuck.
He smiled at me from across the table as we sat idly chit-chatting, and with the brightness of a beautiful sunny day and a large open window behind him, it almost looked like he had a halo. His skin looked tanned, and he had a beautiful colour about his face. Big brown eyes and a face that split in half with a big smile when he looked up at me. We'd spent a couple of days out in the sun and it had done us both the world of good. Socialising and being happy … Everyone said that we were "made for each other". I won't lie, it was all wonderful to hear.
But he just looked good enough to eat, sat across the dining room table from me, and I closed my laptop. There was no work on my mind. I couldn't focus on the words on the screen in front of me. Out of nowhere I just wanted him. It was like a switch has been flicked. I wanted him. Right there. Right at that very moment.
So, I went and got him. 
Slowly, I uncrossed my legs and slid them to the side of the chair. I smiled at him, rearranging the white Hooters vest top that I'd hastily thrown on with long yoga pants to hurry him up for his client. I loved that top. I picked it up in the Hooters I visited in Edmonton, Canada, with my Bestie from the other side of the world. Bear loves those yoga pants. The fabric clings to my curves in a way that even I admit is sexy, and I wear them deliberately on the days I wish to wind him up.
I sashayed over to him in that way he loves too. Swinging my hips from side to side, he knows I mean business, and he moved his chair so that he was side-on to the table, facing me. I swung my right leg over him, and then my left, and I kissed him long and hard. It seems like forever since we'd last kissed like that. I think we've been a little 'out of sync' for a few days, but now we've found ourselves back on the right track again.
Our kisses rising in intensity, I lifted his arms above his head so that I could take off his t-shirt. I then held my arms above my head so that he could take my Barbie shirt off, revealing just a simple and plain white bra. So innocent. So simple. I've started to really appreciate the power of white underwear, especially with Bear. He seems to really love it, especially this one particular lacy little number I bought, with the teeniest thong I've ever seen to match …
I stood up so that he could slide my yoga pants down, yanking my frilly Victorias Secret thong down with them (because I rarely wear matching underwear), and then we did the same with him, slowly and torturously fumbling with each button on his jeans. There's something so very erotic about the un-popping of those buttons. That's something else I've started to appreciate.
Pop. Mounting tension. Pop. C'mon now, let me get at it. Pop. Ugh. One more! Pop … YES!
It wasn't until we got the jeans right down to his ankles, underwear along with them, that we realised he still had his boots on, but it was too late. They'd just need to stay where they were for now, I needed him.
I slowly lowered myself down onto him, not letting him enter me, but instead teasing him with my soaking wet lips. Slowly and deliberately, I slid myself up and down the length of him, but without letting him actually enter me. I could see it was driving him nuts, and that's what I love the most about 'us'. I love that I can do that to him – I can actually physically see the mounting frustration on his face. I can see that he wants to let rip, teeth bared and jaw tense, even now – almost 8 months in and living together. In between periods of 'real life', we still have those beautiful shining days where our passion erupts right into the middle of the kitchen / dining room.
He spun me around, positioning my legs so that they were hung over the top of his, my back resting against his chest. He's so strong sometimes, he seems to throw me around like I'm weightless. I can't tell you how fucking hot that makes me feel. I want to be thrown around. I want him to position me exactly where he wants me, just like he did today. One arm across my chest to keep me still, his other hand trailed down across my stomach, reaching down to the wetness in between in my legs. He found what he was looking for, signified with my gasp, and he started to work tiny little circles right above my clit. He knows I love that. I showed him one day. We've started to get really playful when we do actually have sex. I really should blog more. We actually have more sex than I think we do.
Playfully and painfully pinching my nipples, Bear continued working on my clit until my orgasm hit, and it didn't take long. Stuck in that position, without any way of wriggling free, I was all of a sudden very aware that the curtains were open. The windows were open. We were right in front of one of them, half-positioned on the chair, but now with my legs spread wide and one of them up on the dining room table. I could see people walking past.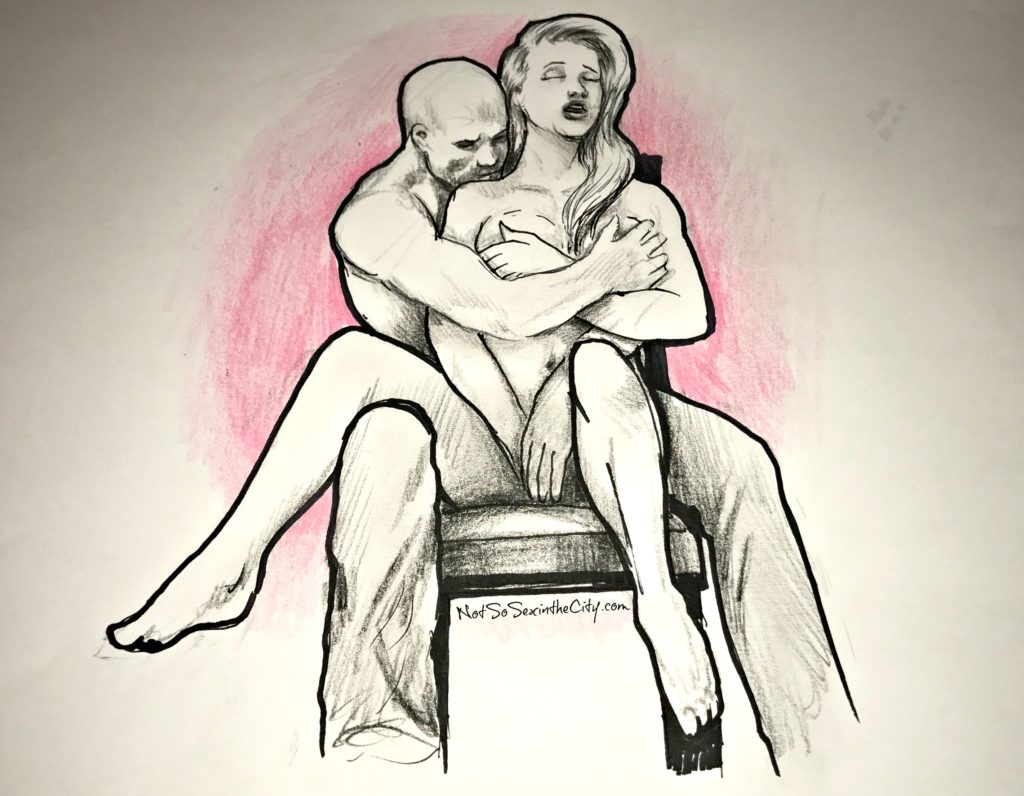 I wanted to grab Bear and run into the bedroom instead, but even if I'd wanted to, I don't think I could have squirmed my way free. Trying to keep quiet, combined with trying not to be obvious in front of the window … it was quite an intoxicating mix. I never thought I was much of a voyeur, but there was something about that particular moment that definitely worked for me. I came hard. So hard, in fact, that I gushed on Bear's hand, and also onto the floor below us.
All hell broke loose then. Trying to keep quiet became an impossible task, and I found myself being lifted and carried from the dining room table to the couch in the front room. Throwing me down over the arm of the chair, he yanked on my ankles to pull me closer to him.
"Arch your baby, baby. Do it now. Good girl." 
I love it when he calls me that. Because for him, I am. I always will be. He pounded into me from behind, grabbing fistfuls of my hair with one hand, and forcing down on the small of my back with the other. It took him a little longer to cum than it did me, and I gave him the pleasure of another of my orgasms in the meanwhile. He loves it when I play with myself as he fucks me, which is lucky for me as I quite enjoy playing with myself, and it often works to get him there a little quicker. As does reaching down and playfully toying with my ass too, something I learned today. When he did cum, he pulled out, covering my fingers, ass and pussy, and he made the most joyous noise too. I might try that little anal-play trick again …
Oh, here's something I might have failed to mention earlier – the window backs right on to a busy car park. They may not have seen, but someone definitely would have heard. That's quite hot.
We did actually do some work for a while, but you'll be happy to know that about three hours later, he received the most marvellous tit-wank. It's never been something I've been that much of a fan of, if I'm honest, but today … Well, it was magnificent. Oh, and for the record, his cock looks like it belongs in between my tits. That pink head against the milky-white of my flesh – mmmhmmm. I'll take some of that, please and thank you!
But yeah, today. What a day! Sunday Funday! 
While the kid's away … 😉
Fancy reading some more #NSFW stuff? Check these out:
You can also support me by joining me on Patreon. That's where I hide my naughtiest erotic fiction because I'm not brave enough to put it on here!
Here's my latest post: When He Holds My Hair, and you can read it by clicking on the link & pledging! Thanks so much in advance! xo