Shadowban, Invisibility & Banned Instagram Hashtags
Hello, lovelies! So, after the success of my last tech(ish)-related post, I decided to share a few more things that I know with you. I'd sorta mentioned "banned hashtags" and a few other things (shadowban, etc.) on Twitter, and a few people messaged me to find out more. It seems that people don't know this stuff. If your 'likes' on Instagram have gone downhill fast, or you don't seem to get anywhere near as many followers or engagement as you used to, these seemingly secret Instagram punishments could just be the reason behind it. Or the poxy, stupid algorithm.
If I know this information and other people don't, it just makes perfect sense that I share, right?
(In turn, I'd be most grateful if you could teach me how to use a comma properly. Semicolons too. K, thanks!) 
Let's start with banned hashtags. 
These change regularly, making it really tough for those of us that need to use them to keep up. Below are a few examples of banned hashtags. There are so many more. There are different kinds too. Some of them will show you absolutely no posts at all, almost like you're looking at an Instagram account that you have been blocked from looking at.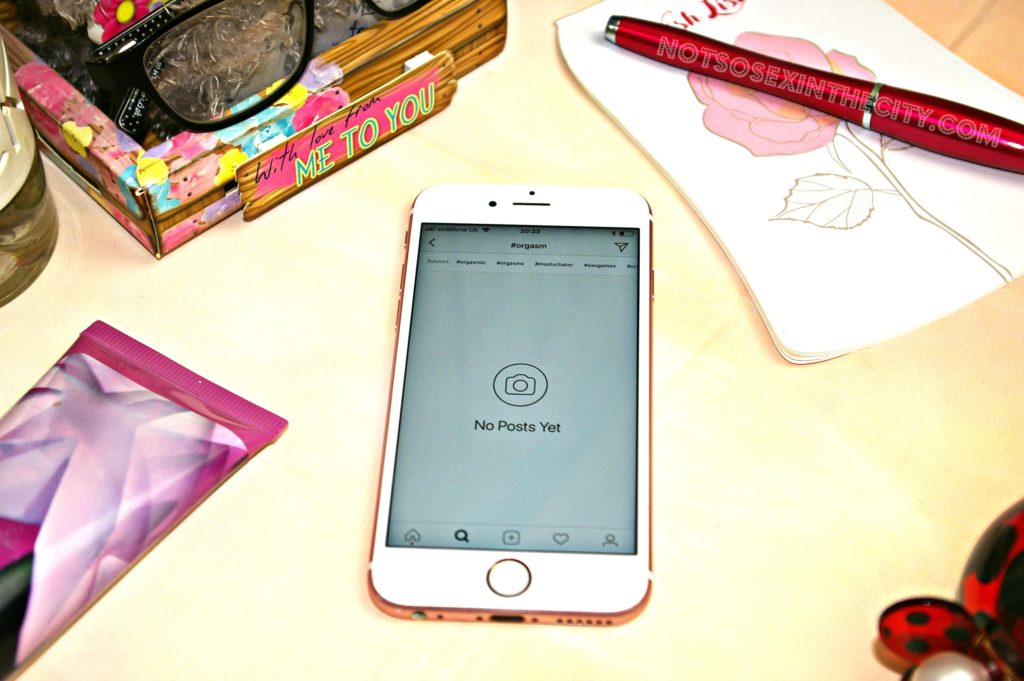 Then there are some that only show you three posts — the top three posts. There are others that only show you a few rows of 'Top Posts'. The top 36 images, to be exact.
Banned hashtags:
#orgasm – No Posts Yet
#sexlife – No Posts Yet
#masturbation – No Posts Yet
#sex – Top Posts (x3)
#sexy – Top Posts (x3)
#erotic – Top Posts (x36)
#erotica – Top Posts (x36)
#curvy – Top Posts (x36)
#dating – Top Posts (x36)
#naughty – Top Posts (x36)
#date – Top Posts (x36)
#adult – Top Posts (x36)
#vibrator – Top Posts (x36)
#submission – Top Posts (x36)
#hotgirls – Top Posts (x36)
#lingerie – Top Posts (x36)
#single – Top Posts (x36)
#singlelife – Top Posts (x36)
#valentinesday – Top Posts (x36)
#newyears – Top Posts (x36)
#newyearsday – Top Posts (x36)
#kissing – Top Posts (x36)
#adulting – Top Posts (x36)
These are just *a few* examples. There are so many. Too many to list. And, as I've mentioned, some of them are banned and then un-banned. The list changes all the time. Not annoying at all.
Why are they banned?
If a bunch of people were to upload x-rated images using the hashtag #ValentinesDay, and then a whole bunch of other people were to report the images, Instagram would pick up in the fact that #ValentinesDay was the common denominator. Because it would have a string of reportable images, it would then become a banned hashtag. There have been some totally random banned hashtags added to the list, and this is because they have been abused by those using them for reportable images.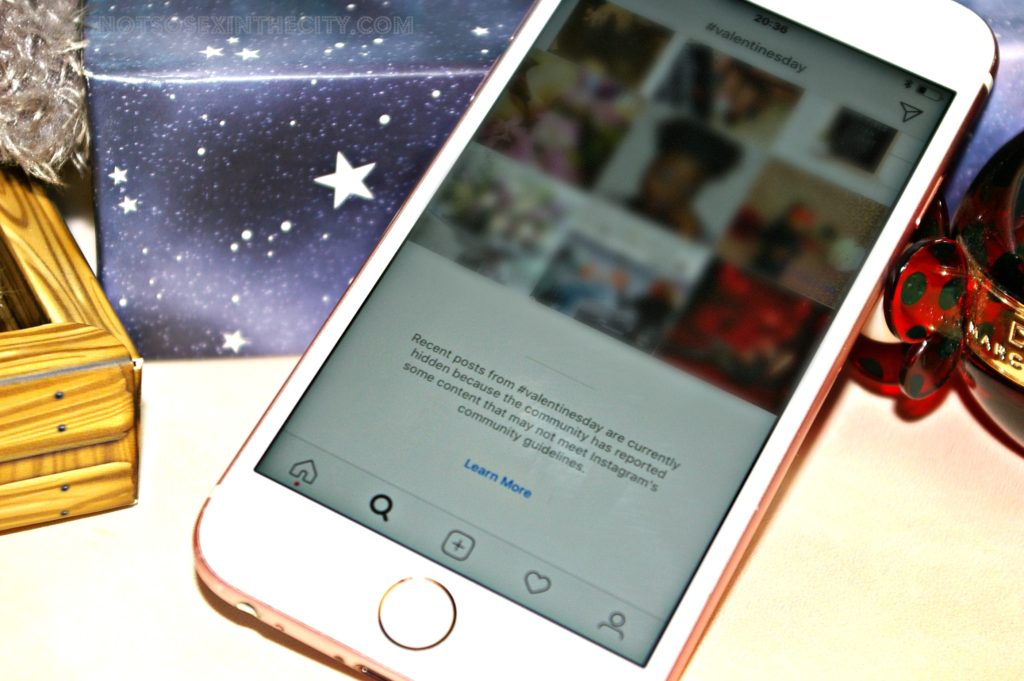 For the record, #ValentinesDay is still a banned hashtag, only showing the 36 'Top Posts'. Do not use the hashtag for your romantic snaps if you want any growth at all.
What happens when you use banned hashtags?
In most cases, the odd banned hashtag won't hurt you. You just won't get as many 'likes' as usual. If the banned hashtag you're using is only showing the first 3 or 36 posts, there's a really high chance that you're not going to make it to the highly-engaged 'Top Posts'. It is basically a pointless, worthless hashtag that is holding you back. You should let go. Let go of the banned hashtags.
If you repeatedly use banned hashtags, you'll encounter problems. That's when the shadowban comes in.
Dum Dum Dummmmmmmmmm.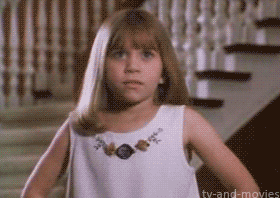 What is a shadowban on Instagram?
If you repeatedly use banned hashtags, Instagram could "shadowban" your account. A few of you have experienced this on Twitter from what I can make out and it's not pleasant. Essentially, no one that isn't already following you will be able to see anything you post. You are invisible. Utterly and entirely invisible. That's how it'll feel anyway. This goes for Twitter and Instagram, making it impossible to gain new followers. Your follower count is probably going to go down. You will also notice that your 'likes' drop dramatically. Like, dramatically enough to make you want to throw your goddamn phone out the window. It's worse than not posting anything at all. (Which is actually one of the ways to un-shadowban your account. I'll get to that in a moment.)
Watching your Instagram followers and 'likes' go down when you've tried so hard to build them up is the most soul-destroying thing in the world. A tad dramatic, but whatever. I stand by my words.
There are other ways to get yourself shadowbanned. If you use the same hashtags each time you post (copy/paste), you'll find your account gets banned. If you repeatedly get reported, you'll probably get banned. If you use scheduling/posting tools that go against the social site's API, you'll find your account gets banned. If you use bots to follow/unfollow or like/unlike, you may also find yourself on the harsh end of a ban. Who knew there were so many rules for using Instagram?!
How to get over a shadowban on Instagram
I've done quite a bit of research on this and, sadly, there doesn't appear to be a one-size-fits-all answer. The first thing that I suggest you do is to refrain from posting altogether. Delete the app from your phone. Don't even go on it. Don't 'like' anyone's picture, don't comment, just leave it alone. For, like, a week or two. Maybe even longer than that.
I've seen some bloggers say that it's taken at least three weeks for the shadowban to go away. I know, right? Depressing. As. Fuck. The ban doesn't seem to have a set period of time, with some accounts coming back to life in just a couple of days, with others taking months before normality resumes.
(If this is your first time here, there's going to be a lot of swearing.)
Other suggestions to *try* and remove the Instagram shadowban from your account include:
Hashtag Deletion
Some bloggers have found that deleting the hashtags from the last few posts can remove the shadowban. If this is the case for you, there's definitely something wrong with the hashtags you're using. Are any of them banned? Click on each of them. What can you see? 'Top Posts' and then 'Most Recent'? That's normal.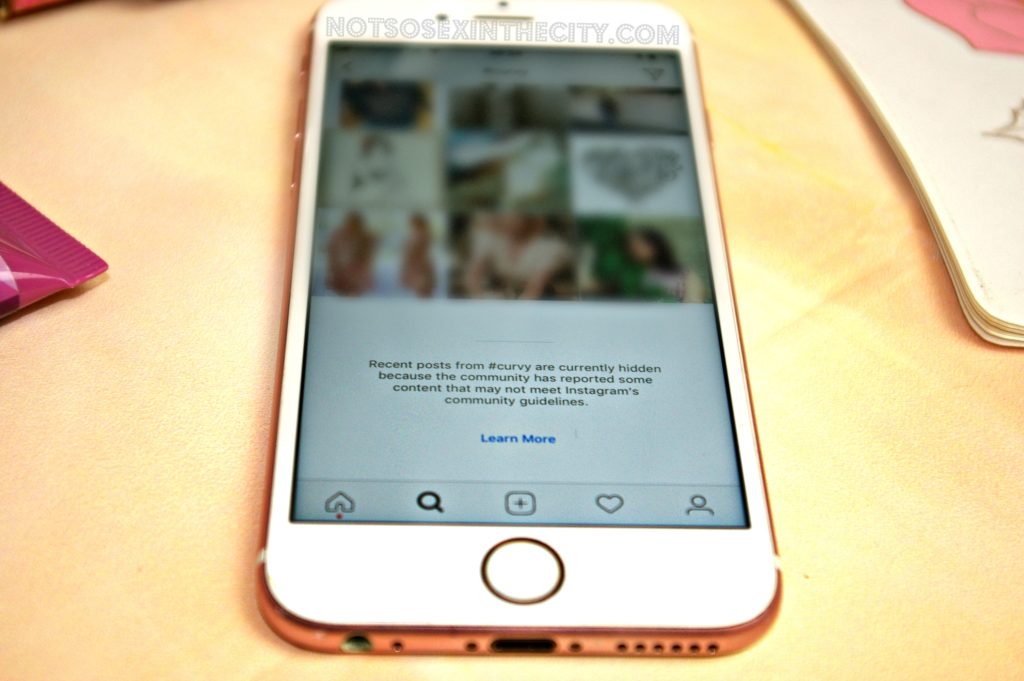 If you see just the 36 'Top Posts', the hashtag is a banned one.
Getting in touch with Instagram
If you have been shadowbanned (or you think you have) for a long time, there could be something wrong. A few people have found that getting in touch with the Instagram support people can resolve the problem. When you contact them, don't say that you've been "shadowbanned" or "hacked". The support team won't deal with this, but might send you to another department that [probably] won't ever deal with your query, or email you a link for their guidelines, T&C's, and other crap. Instead, suggest that you are having problems with hashtags — that you aren't showing up for the hashtags that you're posting in your caption.
Caption or Comment?
Do you regularly skip adding the hashtags to your caption, tapping them into the comments instead? You might get shadowbanned for doing this. It might be time to skip to the old-fashioned way of adding the hashtags to the caption. That's kinda where they're meant to go. If you don't like the way it looks, all cluttered and fussy with all your bits and pieces smushed together, spread things out. You can't add line breaks to Instagram captions, but you can add full stops or emojis to fake line breaks, as such.
*Note: If there is a space between the last character on the top line and the first character on the next line down, the line break won't be added. 
Remove your 'business' account status.
Right, to go into this, you'd need to go into the whole politics of Facebook being almost impossible for business and blog pages, and Instagram and Facebook being owned by the same people, blah, blah, blah.
In short, having a business account on a social media profile probably won't benefit you right now. In fact, it'll just make life harder. Some people have shown that reversing the process — going from a business account to a personal one — has helped to kick off the shadowban AND give them better engagement. I can't confirm or deny these reports, although my experiences seem to suggest this could very well be the case. Put it this way; I probably wouldn't change any of my Instagram accounts to a business one right now.
So, yeah, there's my condensed guide to the whole Instagram banning business.
*Not the COMPLETE guide, before anyone tells me there's stuff I've missed out.
**All details correct at time of writing. I checked every hashtag listed. 
I hope it helps!