Top 100 Sex Blog 2017 – Sixth! (Also: Nipple Sticks)
What a bloody wonderful surprise to check my Twitter one day and come across this absolute beaut:
Firstly, thank you so much! It's an honour to come sixth! SIXTH!
Secondly, I feel like a bloody fraud. I barely have sex these days, let alone write about it, but I'm working on it. (I promise I'm working on it.)
That Tweet and award came at the best possible time for me. I was in the midst of a bloggy-crisis, I think. I'm having the hardest time with my sex life right now, so perhaps I shouldn't bother being a sex blogger anymore? I don't seem to have anything to say these days too, so maybe I just shouldn't blog? The things I do want to say, I'm … scared to say? I don't even think scared is the right word. I'm just filled with so much anxiety and trepidation all the time, worrying about whether or not I'm/my writing is good enough/my views are correct/I'm not offending someone/I'm using the right words or terms.
To hear that I'm worthy of a spot on that list for the second year in a row was the biggest and best confidence booster. It was one that I most definitely needed to read. For that, Molly's Daily Kiss, I cannot thank you enough. You beautiful, beautiful person, you!
Thirdly, it reminded me of the KinkCraft nipple sticks that I got last year when I came sixth in the Top Sex Blogger 2016 list …
… and then that reminded me of what Bear and I got up to with those nipple sticks!
Would you like to hear all about it?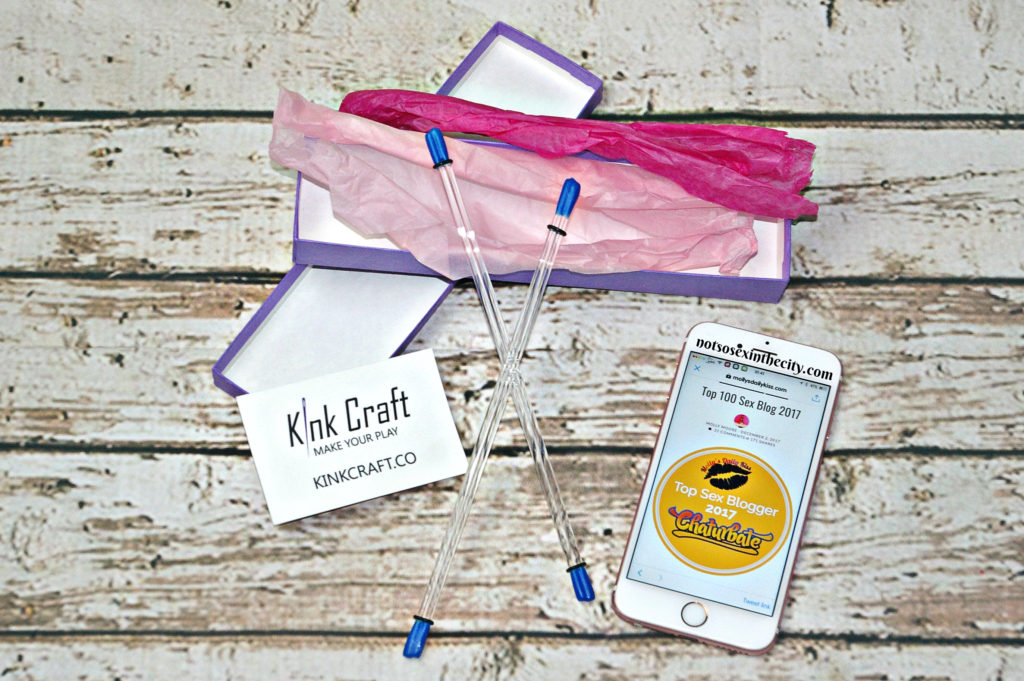 It was in the old house … 
I prefer that house. I don't much like the one we live in now. Same white leather couch though, with the same black throw to stop my bare legs from making contact with the cold material. I hate that, especially on a freezing winter morning.
Speaking of my legs, Bear had spread them wide on the couch. He loves to look at my pussy as he plays with me and it freaked me out a little at first, but there's something wonderfully empowering about having a man who drools at the very prospect of touching you, on his knees and waiting to please you.
There's also something incredibly hot about the way my man puckered his lips together in excitement as he looked at you, almost in the same way one would pucker one's lips together in anticipation as a waitress brings out a delicious, juicy steak. I shouldn't compare myself to meat. I fucking love steak though, almost as much as he loves my pussy.
I'd been taking photos of the nipple sticks. That's why they were out, conveniently to hand, right on the coffee table next to us. They weren't the first tool he grabbed, though. He first decided to stop me from seeing what he was doing, using the leather blindfold I'd also put close by with the intention of snapping a few shots of them for blog purposes. He followed the blindfold with a brand new pair of soft cuffs that he'd bought just a couple of days before. With my wrists safely enclosed, he used one arm to hold the chain that connected them high above my head, sliding down my jeans and then my thong too.
It was a far cry from the few hours that had led up to that moment. I'm pretty sure Brown Eyes emailed me that day, leading to one of the earliest 'big' fights in my new relationship. I'd dressed up for Bear to apologise and make up, wearing matching black, barely-there lingerie, giving him sneaky peeks of it and making no secret of the fact that he would be getting lucky after his kid had gone to bed. The array of sex toys I'd carefully arranged weren't just for the purposes of a few blog photos; I was also ensuring the ones I wanted him to play with were just within arm's reach.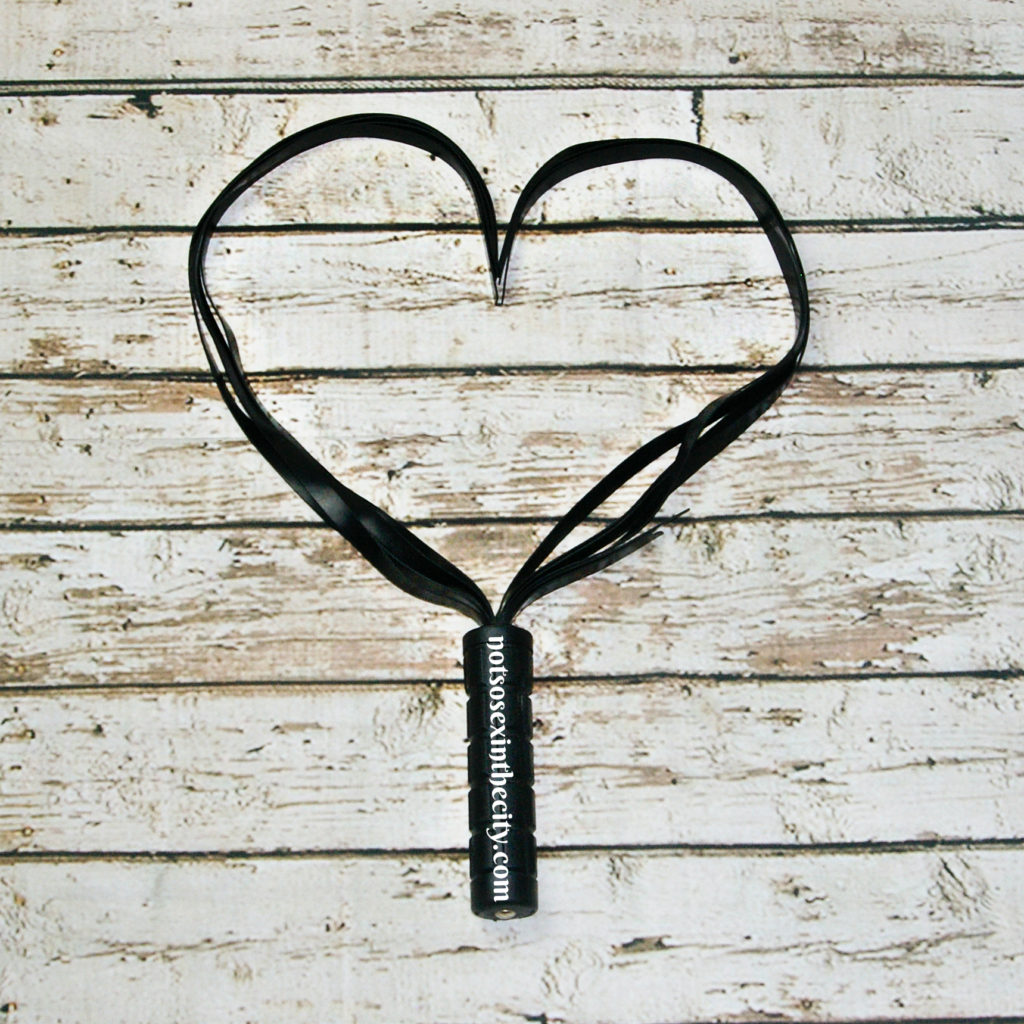 Just like my whip. Black, leather, cold, each slap of the many tails leaving an almost stinging, frozen sensation on my skin. He alternated between slapping and draping for a while, leading the strands from the little dip at the bottom of my throat right down in between my tits, always stopping shy of everywhere I wanted him to go. I wanted him to slide those tendrils right down into my cunt, but he didn't. He'd get tantalisingly close and then sweep them away again, back up across my stomach and higher.
"Do you want me?"
It was a stupid question. He had my legs spread wide, he could see me glistening under the living room lights.
"Yes."

"Yes, what?"

"Yes, Bear."

"Keep your arms up there."
He let the cuffs go, enabling him to use both of his hands to release my tits, tugging them out of the cup of my bra rather than taking it off completely. Dipping his head, he sucked on one nipple and then the other, hard, much harder than he'd done before. Definitely passing the threshold of pleasure into pain. I inhaled a sharp, whistling hiss between gritted teeth. As I yanked back to get away from his relentless mouth, I managed to move the blindfold just a little. I could see why he was sucking so hard. He needed my nipples to stand to attention so that he could position the nipple sticks around them. I almost shuddered with anticipation, goosebumps erupting — and they didn't go unnoticed. I saw the smile creep across his face.
It took a few moments to get the sticks to stay in their desired position, moving the little rubber bands closer and closer together and causing the plastic tubes to tighten around my nipples. Again, crossing the line between pleasure and pain, it felt unbearably amazing. Not quite as amazing as how they felt when they were clamped around my labia, however. That came later on.
We started off with one stick gently placed so that it clamped around my clit. The other was positioned so that it was connected to both of my nipples at the same time. He loved that, lapping at the tip of them just peeking through the plastic restraints with his tongue. He loved tugging at the sticks while they were clamped around my labia more, though. I love it when he plays with them, tugging at them as he firmly-but-gently winds circles around my clit with his fingertips, occasionally slowing things down with some light either-side stroking. It was during the slow-down period that he reached for the whip one more time, lightly slapping the strands across my body. Every now and then, one of them would hit right on my engorged clit, sending a wave through my body that I had no control over. It was during one of those waves that I dared to try and move my arms.
Rather than being annoyed, Bear jumped at the opportunity to change up. Releasing one of my hands from its soft-cuff restraint, he then filled the spot with my ankle, leaving me precariously positioned on the couch with absolutely no way of moving. Spinning me around, lifting me up as if I weighed nothing, I found myself face-down, ass high in the air — his favourite position. Nothing makes him happier than when he has an open view of my ass and my glistening cunt at the same time.
I moved my head so that I could look back at him and I saw those pursed, excited lips again. It made me smile to myself. I wasn't quite ready, distracted and not-braced for when he thrust hard into me, slapping the whip down on my ass hard to coincide with his entry. The ecstatic groan he released at the same time made the stinging slap all worth it, and then the throbbing pain that followed. I love the way he groans like that.
He pulled the nipple sticks from my lips in one swift movement, both at once, just as he forced himself inside me. The climax I'd been teetering on for what felt like an eternity finally slipped over the edge, my limbs wanting to flail about but the restraints holding me well and truly in position. It was almost unbearable, one, two, three, four thrusts more and I was still clamping hard down on his cock. I knew he wouldn't be long behind me. I hoped he wouldn't. Every thrust was attacking my clit head-on. Post-orgasm, it was getting just a little too much to bear. A few more thrusts and his movements became more and more jagged, and I could hear his rasping breath, harsh inhales and long exhales, a slight groan thrown in with them. Just when I thought it was getting too sensitive, like I might need to cry out, "Stop!", he pulled out, exploding hot streams of his come all across my ass.
Who'd have thought those nipple sticks could be so versatile?
(And so fucking hot?!)
P.S. Thanks, Molly's Daily Kiss!! xo