The Art of Blowjobs: A Plan
Following on from The Art of Blowjobs.
I have a plan. One more serious attempt before I give up and accept the fact that my mouth is never going to make One Ball cum. I have an outfit that I know he's going to love. And by love I mean, *fucking* love. A black sweater dress, figure-hugging, with heeled boots that sit just over my knee. They'd probably be knee-high on anyone else, but I've got short little legs that make knee-high boots actually sit just above the knee. Like, tantalisingly close to that upper thigh bit that I'm hoping he's going to lick and nibble on later …
Underneath the sweater dress and fuck-me boots combo, I've got new, sassy, sexy lingerie. Red satin and black lace, a garter belt and stockings to match. And the stockings are fucking adorable: black, red seam up the back, little red ribbon hearts on the top. Delightful. I can't wait to wear them for him.
When he turns up at mine, I'm going to sit on my desk chair, facing him, legs spread so he can get a peek of what's going on underneath my clothes but not letting him come anywhere near me until I tell him he has permission …
I'll peel my sweater dress off first. Slowly, with exaggerated movements, so I can be sure he's seen every inch of the underwear I bought especially for the occasion. Then, dress dropped to the floor, I'll drop right down there with it, crawling across the room on my hands and knees towards my bed with him sitting on it. He loves it when I crawl up from the bottom of the bed to straddle him, so I'm guessing that crawling across the floor in sexy lingerie will have a similar effect. I'll guess we'll soon find out. I fully intend to leave the boots on, of course.
When I get to him, I'll undress him. T-shirt first, then I'll unbuckle his belt. He wears jeans with a button fly instead of a zipper because I once told him that the unpop of a jean fly was probably one of the hottest anticipation moments ever, and I'll unpop his slowly. One, two, three … pause as I look up into his eyes … four.
He'll already have taken his boots off and discarded them somewhere near the door so I'll be able to yank his jeans off with ease, and I'll make sure the socks come off at the same time. And I'll bend from the waist rather than my knees as I peel away his remaining layers of clothing, giving him a clear view of my hanging breasts in all of their red-satin-and-black-laced glory. I want him drooling by the time I'm done with him. Ready to blow. I want to make it impossible for him NOT to cum when I get my mouth around his dick.
Once we're down to just his boxer shorts, I'll start to really play with him. Light kisses on his inner thighs. Scratching his skin with my long and black spiked nails. Gripping at the waistband of his underwear with my teeth, threatening to pull them down and reveal the stiffening dick beneath them but not actually doing it.
"I can't wait to feel my cock in your mouth," he'll say to me, and I'll just smile at him. A knowing smile. It's going to be a little while yet before he gets to do that. He won't know that, but he'll start to realise it the more I touch and kiss and tease him in all the places except the ones he wants me to touch.
When I'm bored, or wet, or both, I'll command him to sit back.
"Just watch," I'll say. "You're not allowed to touch. If you try, I'll tie you to the chair so you can't move."
And I'll position my ass on the floor at his feet, spreading my legs wide.
"Boots and stockings on?" I'll ask.
"Y-y-yes … " he'll stammer. "Yes, leave them on, please."
So I'll unhitch my stockings from the garter belt and pull off my thong. I want him to see how much I glisten as I dip one finger into my cunt, and then add a second, and then a third. I want him to watch me pulsate and contract as I loop my fingertips around my clit, each circle edging me closer and closer to the point of no return. I'm going to make myself cum in front of him, deliberately – but slowly, and I want him to take in and enjoy every single moment of it. The buildup, the big ending … all of it.
When my breathing has returned to some sort of normality and I can see his dick literally throbbing in the confines of his underwear, I'll turn my attention back to him, except this time around I'll do exactly what he wants: I'll take him into my mouth, all of him, nose right down to his stomach. When I've worked him right to the very edge of what he can handle, I'm going to suck his dick as though my life depends on it.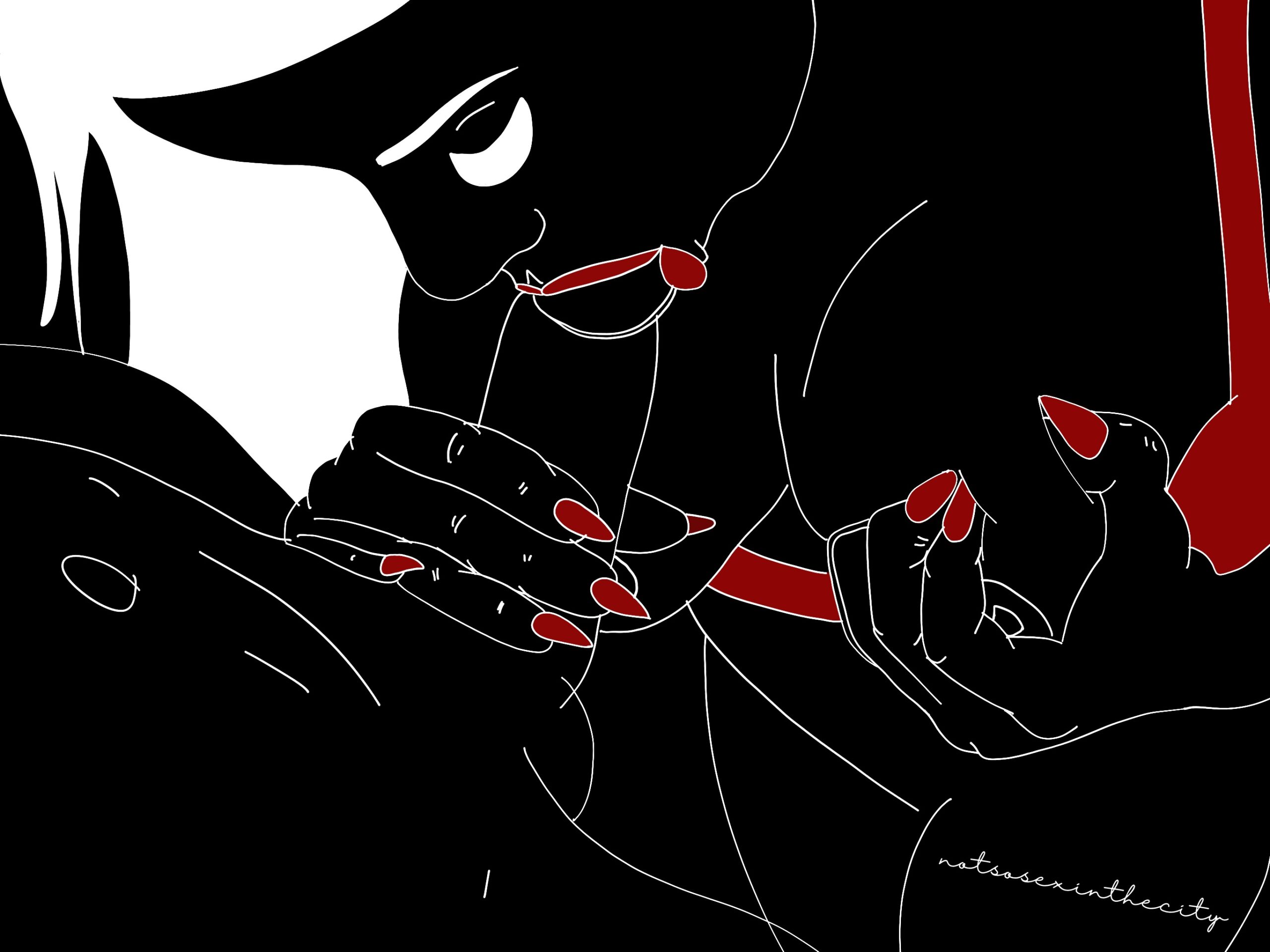 And hopefully, THAT'S when it happens.
It.
That big finish.
Well … that's the plan.