I miss One Ball. There, I said it. I find myself tapping out text messages to him and then reminding myself that I'm still really angry at him and deleting whatever it was I just wrote. I am still angry, but I also think I might give him another chance. One last chance. At this stage, I'm not sure if he even deserves it (and I'm sure you'll all have some stuff to say about it), but I miss him a lot. More than I thought I would. I really do have genuine feelings for this boy and I *want* to see if it's got the legs to go somewhere one last time.
Call me crazy, I don't care.
It feels like I'm too far into our relationship to just call it a day now. I know that sounds stupid, but I've worked with and on this guy a lot already. I had to wade through the bullshit to find out the real truth about his past, how many children he has, and the few ex-girlfriends and ex-wives thrown in along the way. We've had some rough and bumpy times, but we've also had some really great ones too — and I think the good outweighs the bad. Isn't that all that matters in the end?
There's part of me that's screaming: YOU'RE AN IDIOT, and I know that part of me is probably right. I'm trying to think about whether or not One Ball and I have some kind of life in the future, and what it might look like. Can I see us going the distance? Is the potential future enough for me to forgive the sticky start we've had? I feel comfortable around him, happy, and I'm always laughing. He makes me laugh. And we can't forget that he's awesome in bed. That's not important in the grand scheme of things, I know, but it is also an important part of the relationship for me. If he weren't compatible with me in the bedroom, we wouldn't stand a chance. Sex is just too important for me. Sorry, not sorry.
Plus, we're not boring. I'm a relationship masochist; I think I NEED drama every now and then to stop things from getting boring and stale. I don't mean like ducking someone else-style drama, but some kind of roughness is okay every now and then. A little fight. Something that shows that we have a range of emotions for each other — love, lust, anger, sadness, all of it. That's love, right?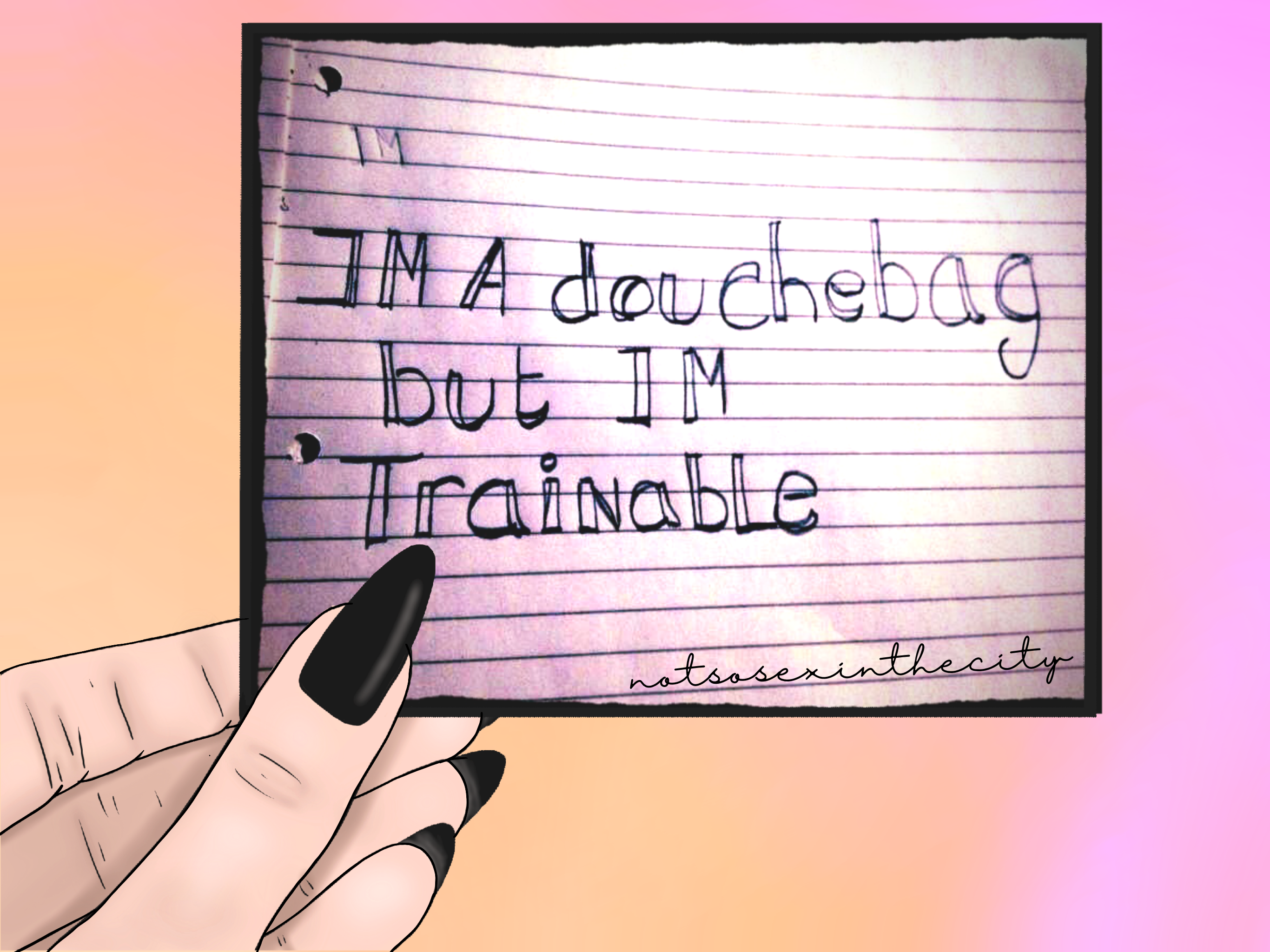 He's trying to make things up to me and I can sense it from the constant texts. There have been a lot of little 'love notes' too. [See above.] And he's been opening up a lot about his kids, telling me about times from when they were younger, as well as sharing their conversations with me when they speak on the phone or via FaceTime. He's walking on eggshells a bit around me, I think, and it's pissing me off quite a lot. I just want him to be normal. You know, without all of the lying. He keeps telling me that I'm "too good" for him and that he knows he's got some serious making up to do, but there's a big part of me that's questioning whether or not his moves or genuine, or if he's just playing a game.
Maybe I will just give him another chance. He's promised me that he hasn't read any of the blog, and that he hasn't gone looking for it since that first time. Does he deserve the benefit of the doubt … or am I being a fool? I'm sure I've said some less than positive things about him on here, there's no way he'd be able to keep his mouth shut if he *had* read some of it … right?
Oh … as a final note, I've got a new manager at work and I think I might have a bit of a crush on him. As if my life weren't complicated enough, eh? Watch this space, I've no doubt that you'll hear a lot more about this new work-guy.